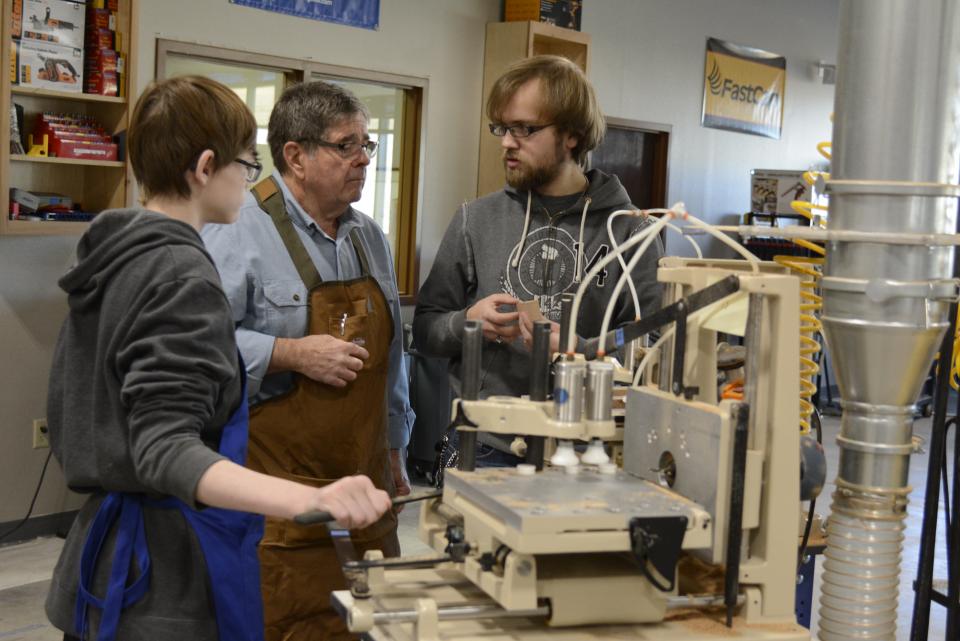 COLORADO SPRINGS, Colo. — The Manufacturing Industry Learning Lab, known as the MiLL, opened last fall. The national training center for the woodworking industry features more than $3 million worth of equipment operating under power in a 46,600-square-foot building. The MiLL offers woodworking instruction to students by day and adults at night.
At the core of the MiLL's diverse training courses are the Woodwork Career Alliance's skill standards and credential Passport program.
"Our curriculum is laced with the WCA skill standards," said Dean Mattson, chief architect of the MiLL. "If a WCA standard can be approached or earned or taught, then it is. They are national standards that we use to accredit students and that translates to instant hirability."
"It was a natural fit to incorporate the Woodwork Career Alliance's credential Passport in the woodworking programs both at the MiLL and at Peyton High School," says Tim Kistler, superintendent of Peyton School District for the past 16 years. "The Passport is stronger than a resume for students who want to pursue woodworking jobs because it documents all of the skills they have learned and it's based on nationally recognized standards."
"The MiLL is an extremely well-equipped facility that is a tremendous resource both for our educational system and industry," said Scott Nelson, president of the WCA. "It's a fantastic showcase to inspire students and adults to pursue woodworking careers."
Mattson had the Peyton Wood program up and running in 2015 after about 90 days by building on relationships he made with industry suppliers at North Salem High School in Oregon, plus new ones he gained after winning the WMIA Educator of the Year award. His attention soon turned to developing the MiLL.
"Dean is a visionary," Kistler says. "When he first came out to Peyton we talked about having the Peyton Woods facility double as a national training center. When the superintendent of Widefield School District in Colorado Springs heard about our idea, he said he wanted to be part of this."
As the concept moved forward, it was determined that Colorado Springs and its proximity to an airport and hotels was better suited for a national training center.
Many major industry equipment suppliers agreed to loan or donate machines and supplies. There are now have 256 machines and power tools at the MiLL.
This fall, more than 115 high school students are taking woodworking courses at the MiLL, including the first crop of Peyton seniors who have earned their WCA Sawblade certificates at the Peyton Woods Program. In addition to drawing student participation from Widefield and other area school districts, the MiLL will begin offering evening classes to students of Red Rocks Community College's Fine Woodworking Program. The MiLL is also working with Wounded Warriors to offer training to ex-military personnel.
"We believe that we can have 250 to 300 high school students coming through our program each year," Kistler says. "I think we can ultimately achieve a similar number in our evening classes. I see the program only getting stronger," Kistler says.
Part of the reason for Kistler's optimism is that Peyton is introducing kids to woodworking earlier than ever. The success of an "exploratory" woodworking program for eight graders has led the district to open up the program to seventh graders this coming school year.
Several of the students have already had an opportunity to earn and learn through an internship program supported by Concepts in Millwork, an architectural woodwork business in Colorado Springs.
Nelson was the lead presenter of the WCA training held at The MiLL in May. "We had six high school teachers, including three from outside of Colorado," Nelson says. "I think that shows that the MiLL has the power to draw people from all over. Tim and Dean have done an excellent job of getting industry buy-in and promotion for the MiLL."
Mattson is focused on serving as a consultant to help launch other MiLL-type facilities in other locations.
"People have misunderstood what this facility is all about from the beginning," Mattson says. "This is not the national training center. It is the model of what has to happen throughout the world of career technical education if we are going to make any meaningful progress toward fulfilling the woodworking industry's critical need for skilled woodworkers."
Since the MiLL opened its doors, Mattson says he has had serious discussion with six other entities, including one outside the U.S., about starting a MiLL. "Some of my discussions have included owners of woodworking companies who are thinking about selling their businesses to start a MiLL.
"The Colorado Springs project proved what can be done, but it can't be the model for the future," Mattson says. "The industry is going to have to pay for this stuff. Little school districts like Peyton can only do so much. The industry is starving for talent and it's only going to get worse. They have to have a financial stake in programs like this if they want to reap the benefits."
– –
Reference: Original Article
Reposted by: A Cut Above Cabinets